Periodontal (Gum) Disease FAQ
---
Tooth Decay FAQ
---
TMJ disorders FAQ
---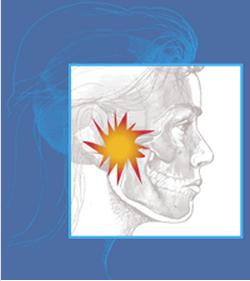 The temporomandibular joint connects the lower jaw, called the mandible, to the bone at the side of the head—the temporal bone. If you place your fingers just in front of your ears and open your mouth, you can feel the joints. Because these joints are flexible, the jaw can move smoothly up and down and side to side, enabling us to talk, chew and yawn. Muscles attached to and surrounding the jaw joint control its position and movement.
When we open our mouths, the rounded ends of the lower jaw, called condyles, glide along the joint socket of the temporal bone. The condyles slide back to their original position when we close our mouths. To keep this motion smooth, a soft disc lies between the condyle and the temporal bone. This disc absorbs shocks to the jaw joint from chewing and other movements.
The temporomandibular joint is different from the body's other joints. The combination of hinge and sliding motions makes this joint among the most complicated in the body. Also, the tissues that make up the temporomandibular joint differ from other load-bearing joints, like the knee or hip. Because of its complex movement and unique makeup, the jaw joint and its controlling muscles can pose a tremendous challenge to both patients and health care providers when problems arise.
Although, TMJ disorders can be painful there is a lack of research in any invasive or aggressive treatments. Therefore, it continues to be recommended that patients choose the least invasive procedures that do not involve surgery or invading any of the tissue of the joint. It is also recommended, also due to the lack of research, that reversible treatments be utilized.

Self-Care Practices
The recommended practices that can be accomplished independently involve eating soft foods, applying ice to the sore area, avoiding gum chewing, stretching the jaw, reducing stress and engaging in some relaxation techniques.
Pain Medications
For some individuals who suffer from TMJ disorders, short term usage of pain medication may be helpful. It is recommended that individuals use anti-inflammatory drugs such as ibuprofen. If indicated, a doctor or dentist may prescribe a stronger pain medication, muscle relaxant or anti-depressant to ease TMJ disorder symptoms.
Bite Guards
For some indivdiauls with TMJ disorders, a bite guard or stabilization splint may be recommended. The guard is a plastic devise that is fitted to sit over the upper or lower teeth. Bite guards are the most frequently utilized TMJ disorder treatment. Research in the effectiveness of bite guards are varied regarding pain relief. The guard should not increase pain. If pain does increase with use, contact your health care provider.